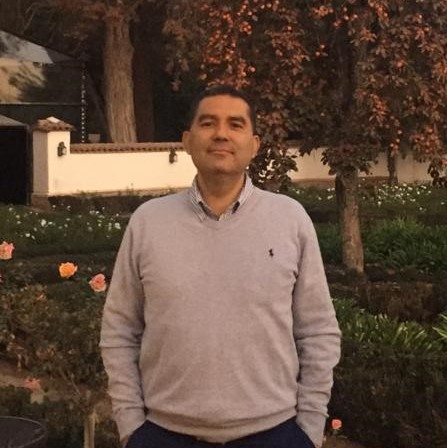 MS.c and Ph.D en Management Science, Universidad Adolfo Ibáñez, Chile
MBA PAD Universidad de Piura, Perú
Ingeniero Mecánico Eléctrico, Universidad de Piura, Perú
ÁREAS DE INVESTIGACIÓN
Innovation Process and Performance; Entrepreneurship Strategies ; Artificial Intelligence Applications; Informal Economy; Emerging Markets.
BIOGRAFÍA
Jorge Heredia is a Researcher and Professor in Management Science. He holds a PhD and MSc from Universidad Adolfo IbanÞez (Triple Crown accreditation). His research interests include competitive strategy, international management, innovation, proximity, and inter-organizational cooperation, especially in emerging markets and China. He has published in various academic journals such as Technovation, Technological Forecasting and Social Change, and Journal of Business and Industrial Marketing. Professor Jorge Heredia is a member of the Academy of Management (AOM), Strategic Management Society (SMS), and International Business Academy (AIB).
PUBLICACIONES RECIENTES
Jorge Heredia, "How do digital capabilities affect firm performance? The mediating role of technological capabilities in the "new normal"", Journal of Innovation & Knowledge
2022-04. DOI: 10.1016/j.jik.2022.100171
Part of ISSN: 2444-569X
Jorge Heredia, "New Strategies to Explain Organizational Resilience on the Firms: A Cross-Countries Configurations ApproachSustainability"
2022-01-29. DOI: 10.3390/su14031612
Part of ISSN: 2071-1050
Crossref, "High Retention and Purification of Bromelain Enzyme (Ananas comosus L. Merrill) from Pineapple Juice Using Plain and Hollow Polymeric Membranes TechniquesPolymers"
2022-01-10. DOI: 10.3390/polym14020264
Jorge Heredia, "Informality in Peru and Its Effects on Innovation at Firm LevelFINDING A WAY TO AVOID THE MIDDLE-INCOME TRAP: THE CASES OF CHINA AND PERU"
2022-01. Capítulo de libro.
Jorge Heredia, "A configurational approach to explain non-market strategies in emerging economiesEuropean J. of International Management"
2022. DOI: 10.1504/ejim.2021.10035469
Part of ISSN: 1751-6757
Part of ISSN: 1751-6765
Jorge Heredia, "How Does Competition By Informal Firms Affect The Innovation In Formal Firms?Global Networks and Innovation in China International Linkages and Indigenous Efforts"
2021-06-15. Capítulo de libro.
Jorge Heredia, "The New Strategy to The Legitimation of Informal Firms. : The Effects of The Signals and Biases on Decisions About Crowdfunding Digital TransformationJournal of Technology Management & Innovation"
2020-12. https://www.jotmi.org/index.php/GT/article/view/3582
Jorge Heredia, "Institution Theory on Informal Economy: A Meta-Analysis.Academy of Management Global Proceedings"
2020-04-04.
Jorge Heredia, "The Role of Information Technology to Build Capabilities in Inclusive Businesses: A Case Study in China and Peru's Cosmetic Industry.Academy of Management Global Proceedings" 2020-04-02.
Jorge Heredia, "Valorization of Chicken Feet By-Product of the Poultry Industry: High Qualities of Gelatin and Biofilm from Extraction of CollagenPolymers"
2020-03-02. DOI: 10.3390/polym12030529
Part of ISSN: 2073-4360
Jorge Heredia, "What drives new product innovation in China? An integrative strategy tripod approachThunderbird International Business Review"
2020-03-02. DOI: 10.1002/tie.22127
Part of ISSN: 1096-4762
Part of ISSN: 1520-6874
Jorge Heredia, "How Innovation Influences on Export Performance: A Configuration Approach for Emerging EconomiesJournal of technology management & innovation"
2019-12. DOI: 10.4067/s0718-27242019000400054
ISSN: 0718-2724
Jorge Heredia, "How Does Competition By Informal Firms Affect The Innovation In Formal Firms?International Studies of Management & Organization"
2019-04-03. DOI: 10.1080/00208825.2019.1608402
Part of ISSN: 0020-8825
Jorge Heredia, "New approach to the innovation process in emerging economies: The manufacturing sector case in Chile and PeruTechnovation"
2019-01. DOI: 10.1016/j.technovation.2018.02.012
Part of ISSN: 0166-4972
Jorge Heredia, "Impact of competition from unregistered firms on R&D investment by industrial sectors in emerging economiesTechnological Forecasting and Social Change"
2018-08. DOI: 10.1016/j.techfore.2018.03.028
Part of ISSN: 0040-1625
Jorge Heredia, "Drivers of the Implementation of Strategies in Latin American Firms' Export PerformanceAcademy of Management Proceedings"
2017-08. DOI: 10.5465/ambpp.2017.14278abstract
Part of ISSN: 0065-0668
Part of ISSN: 2151-6561
Jorge Heredia, "Proximity as determinant of business cooperation for technological and non-technological innovations: a study of an agribusiness clusterJournal of Business & Industrial Marketing" 2017-02-06. DOI: 10.1108/jbim-01-2016-0003
Part of ISSN: 0885-8624
Jorge Heredia, "Effects of informal competition on innovation performance: the case of Pacific AllianceJournal of technology management & innovation"
2017. DOI: 10.4067/s0718-27242017000400003
Part of ISSN: 0718-2724
CLASES QUE IMPARTE
Dirección Estratégica en Postgrados
Ir a su web